As a comprehensive B2B sourcing platform for technical business supplies we are your gateway to the exciting world of technology retailing. This opens up a wide range of career opportunities at our head office in Hirschau (Bavaria, Germany), at our subsidiaries both at home and abroad, and at our retail outlets. To give you a glimpse of what's on offer, we've asked our company departments to briefly introduce themselves.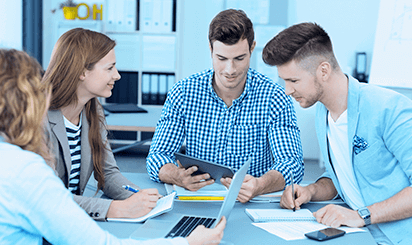 Marketing – "Going Where Our Customers Go."
The marketing team makes the Conrad brand a tangible experience for everyone. This includes business customers, B2C customers and anyone working at our company. Based on a well-thought-out strategy and an innovative marketing mix, we use all appropriate communication channels to get our messages across, covering both traditional printed media and state-of-the-art web playouts. Specific KPIs and keeping an eye on the customer journey of our target audiences help us achieve our main goal, namely providing our customer with information that really matters to them.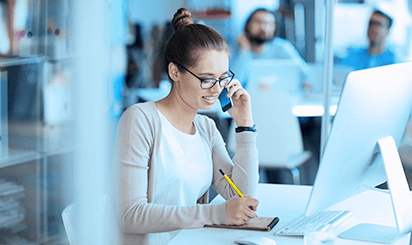 Public Relations – "Authenticity and Good Storytelling."
The PR team is the main hub for finding and dispersing the latest news and trending topics - whether it's TV, radio, print media or online content. We organise press conferences and write traditional product and company-related press releases, focussing exclusively on what our customers really want to know. We also give permission to film, arrange for interviews, compile technical content and respond to requests by the public. We work hand-in-hand with our Social Media team, looking into topics that make for really creative posts.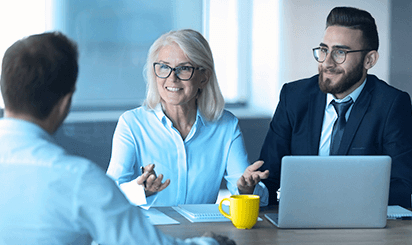 Human Resources – "Together for All."
Getting people excited about our company and being there for them whenever they need competent advice with regard to their work life is what we at Human Resources do.
Our HR business partners, together with our HR assistants and our recruiting team, cater for the entire employee life cycle all the way from the candidate attraction phase to the time people are leaving the company. By using Rexx HR software, our HR Process & Systems team makes sure our department operates largely digitally. When it comes to staff training and development, we look after every employee's individual needs. Which also includes the personal support of everyone completing a dual higher education program at our company.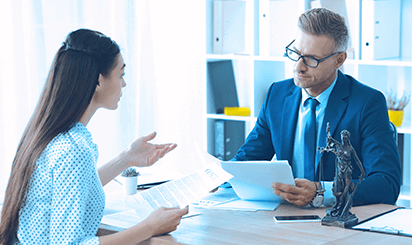 Legal & Internal Audit – "Open and Aboveboard According to the Law."
Integrity, compliance with rules and regulations, and being an in-house service provider that safeguards our company's success are what we at Legal & Internal Audit stand for. As for our responsibilities, the terms legal, audit, corporate security and data protection sum up what we do pretty accurately.
The Legal & Internal Audit team not only helps with the interpretation of law, third-party claims, business models, corporate emergencies, and crisis situations, we also ensure compliance with internal company policies by auditing all members of the Conrad Group. We support all departments with regard to contractual law (mainly focussing on domestic law though) and establish a set of internal standards. We also make sure all our business operations are strictly legal, and inform people thereof accordingly, in order to minimise the risk of damages or losses resulting from misconduct. We've assigned members of our team specifically to deal with any issues related to data privacy and data protection, and to coordinate the procedures with our data protection officer. This is how we keep our business save and legal: simple, fast and comprehensive.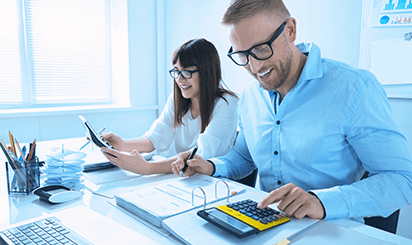 Accounting & Finance – "Workflow Automation – Digital and Up-to-Date."
We at Conrad A&F stand for goal-oriented solutions centred around digital workflow automation. Accuracy tops our priority list.
Our General Accounting team deals with everything related to electronic bank statements, tax issues, insurance questions, statutory reporting, monthly and year-end accounts. General/Assets keeps track of any investments our company makes. Our people at Accounts Receivable deal with outstanding customer accounts. Accounts Payable process supplier invoices, arrange for payments and communicate with manufacturers. The team at Pay Roll manages employee salaries and wages, keeps attendance records, and issues individual tax and other certificates.
Controlling – "Support and Transparency Is Our Business."
At Controlling, we see ourselves an in-house service provider who ensures maximum business transparency based on facts and figures. Our goal is to enable people across all organisational levels and areas of our company to use fact-based Controlling tools to make informed decisions quickly. To achieve this, we provide all the information needed precisely at the time it is needed, also helping the decision makers resolve any business-related issues that may arise in the process. Besides year-on-year planning, monthly forecasting, monthly and year-end accounting, cost centre management and process costing we use SAP to design new business processes. We also continually update the business information available via the Big Data Cloud.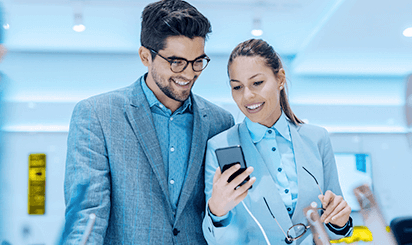 Purchasing – "Turning Suppliers into Business Partners."
These days, staying on top of your game requires ongoing digitalisation of strategic purchasing operations. Nevertheless, people still play a crucial role in the process: we believe that maintaining reliable, sustainable business relationships with our suppliers in the long term are key when it comes to compiling an attractive product range, smooth materials management and making customers happy. In this context, we keep price levels competitive, ensure product quality and compliance with the law, obtain approvals and certifications, and take care of purchase planning. Our team of tech-savvy product managers forms the backbone of our operations. They are listening to our customers, get to know their needs, and are thus able to respond to market requirements appropriately.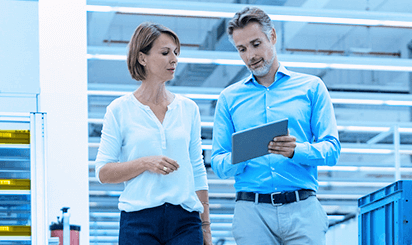 Procurement – "Precisely What You Need at the Time You Need It."
Teaming up with Category Management and Operations, we make sure that any procurement-related procedures applying to our in-house supply chain help maximise customer benefits when it comes to our sourcing strategies as a whole. This includes coordinating initial purchase volumes and products earmarked for promotional activities, inventory turnover, reducing surplus stock and clearing out leftovers. Moreover, we deal with any customs clearance issues arising from goods and suppliers. In short, our Procurement team ensures that goods are available in the required amount at the time they are needed, to meet both in-house and customer demand.
IT – "Digital Transformation 24/7."
Our team's responsibility is maintaining a safe and sound IT infrastructure that enables the technological and functional expansion of any backend application used within the Conrad Group. Our job revolves around process digitalisation and automation applying to both operational procedures and how we interact with our business partners based on our business strategy. Moreover, we provide state-of-the-art platform that makes communication efficient and supports highly-effective agile project and service processes. To stay ahead in all things digitalisation, we are transforming our main range of IT services into innovative future-proofed cloud services. We achieve this by employing disruptive technologies, agile methodologies and focussing on MVPs.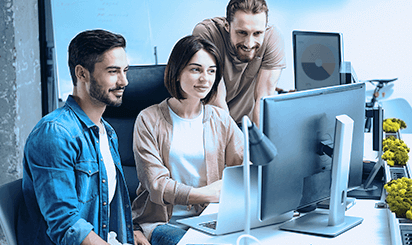 eCommerce – "The Ultimate Omnichannel Experience."
DataVaders able to handle terabytes. Full stack devs who use state-of-the-art frameworks to keep our customers happy. DevOps and SRE trailblazers who team up with our development squad and simply own our cloud-only environment. Fully fledged scrum masters who dig agility, using an Inspect & Adapt strategy to continually improve our platform. And product unicorns that focus on one thing only: their product. This is the kind of people that rule the roost at Conrad Electronic's eCommerce division. Their number one priority: developing and implementing e-commerce software applications, and turning the Sourcing Platform more and more into an innovative ecosystem with customised products, data-driven services and smart solutions.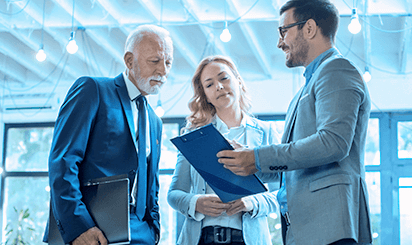 Sales – "B2B first. Stronger together."
The Conrad B2B PMC Sales team (PMC = personally managed customers) comprises account and key account managers as well as inside and outside sales specialists. Our primary responsibility is supporting B2B customers from all across Europe competently and personally. This involves visiting customers on site (outside sales), and dealing with individual customer requests remotely (account management).
In addition, members of our DMC team (DMC = digitally managed customers) look after all those customers who do not fall into the PMC category. Posting tailored content in selected media channels draws attention to a comprehensive range of digital services which ensures that this type of customer also receives proper support.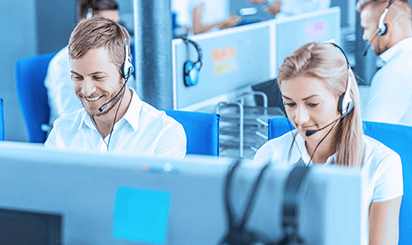 Customer Care – "Getting a Little Faster and Better Every Day."
Customer satisfaction is a result of competent support, personal contact and our commitment to customer service. Customer care means listening to and helping customers day-in day-out - which is precisely what we do. Because customers only place orders online or by phone if they trust our company and are able to get in touch with us right away. This is why we at Conrad Electronic operate a Contact Centre that deals with customer calls and emails. We always put the customer first.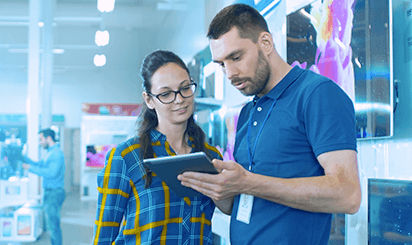 Technical Advice & Support – "Plenty to Discover!"
Passionate about technology and highly motivated. Keeping on top of about 750,000 products requires a lot of enthusiasm. People coming into a Conrad retail store step into a world full of technology and get a first-hand experience. Our shop-based team of competent product advisers is spread over all store departments, ready to advise customers whenever needed. Moreover, as our store teams also support business customers and answer any questions with regard to the Conrad Sourcing Platform, this makes them the linchpin of our high-street retail operations.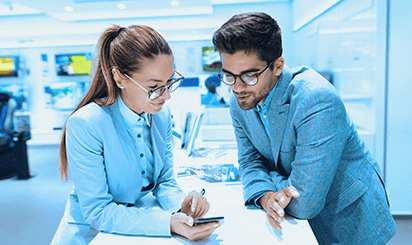 Store Management – "Fingers on the Pulse of Technology."
In line with the Motto "Finger on the pulse of technology", store management serves as a hub for everyone working at our retail outlets, helping them to bring across to customers what we at Conrad stand for, introducing them to the exciting world of technology. Store management supports the frontline teams at the stores in a wide range of tasks, from implementing the latest concepts when it comes to themed promotions all the way to providing business advice on a variety of organisational matters. This is how we both provide the strategic background for our store operations, and serve as an interface between the stores and our other company divisions which also includes the Conrad Sourcing Platform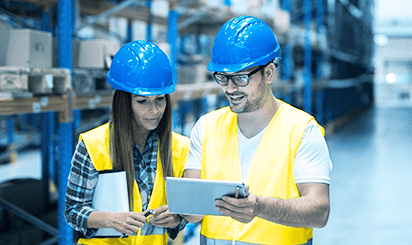 Logistics – "Goodbye, Warehouseman. Hello, Fulfilment Specialist!"
Logistics are based at LOC Wernberg-Köblitz, our company's main hub that supplies customers from across the planet. The centre handles the entire goods flow, including goods-in and shipping orders to more than 150 countries. We use state-of-the-art warehousing technology featuring a ASRS, 20 kilometres worth of conveyors, and customised warehousing software to enable a highly efficient order processing. The centre comprises over ten different areas, each dealing with individual requests by customers and freight forwarders from across the globe. Speed. Quality. Reliability. This is what the team at Logistics & Supply Chain stands for. Coming up with innovative and creative solutions to all sorts of challenges is an integral part of our daily business, to ensure the smooth flow, fast transit and prompt delivery of goods.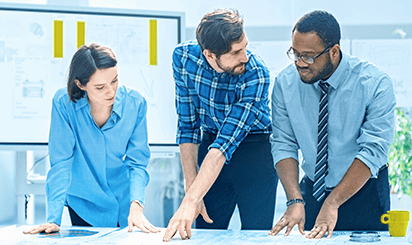 Conrad Education – "Shaping Tomorrow's Education."
Our team of skilled engineers, economists and technology specialists continually develops new solutions aimed at educational institutions and vocational training centres. In doing so, we make sure we fully meet our customer's needs and wishes, and always keep an eye on the trends of tomorrow. Whether we are talking innovations, technology management, marketing, sales, or business, product and service development, we focus on transferring knowledge successfully. This includes the Conrad Academy, a education and training platform, that helps people broaden their skill across 21st century STEM disciplines.
Corporate Intelligence – "Combining Human and Artificial Intelligence."
Business and Market Intelligence, Business Intelligence analysts, Business Analytics: Conrad Corporate Intelligence is a conglomerate of different teams, namely Corporate Foresight, Big Data, Predictive Analytics and Central Execution, that acts as the interface between human and artificial intelligence. Due to the largely interdisciplinary nature of our tasks, our team comprises people with backgrounds from across a wide range of science and business areas. Their combined knowledge enables us to successfully develop and implement strategies that help us resolve issues with any level of complexity.
Conrad Marketplace – "Just More: Our Marketplace for B2B Customers."
Conrad Marketplace consists of three areas: Business Development, Partner Success, and Project & Process Management. Digital transformation and interdepartmental collaboration are at the heart of what we do.
Our Business Development team continuously attracts new business partners, brands and products. This also means that we travel a lot which also includes regular trade fair attendance. Our people at Partner Success personally support all registered sellers, for instance, helping them with set-up procedures or product information processing. They know the platform inside out, and are able to advise on everything and anything that concerns our Marketplace.
Our Project & Process Management team are always looking into new ideas and new ways to improve the platform. This entails working closely with other company departments, to come up with solutions that provide customers with an outstanding marketplace and one-stop shopping experience.
Conrad Connect – "The Glue that Holds the Internet of Things Together."
Conrad Connect are a successful Internet of Things tech start-up based in Berlin, Germany. The platform at conradconnect.de constitutes an award-winning rapidly growing ecosystem with already over 100 high-profile brands. Companies use the platform as a service (PaaS) to provide customers with fast and straightforward solutions aimed at the energy management, electromobility and smart living sector.
Apart from a wide range of exciting applications, our team stands for a dynamic and energetic business environment, diversity (currently, we employ people from 10+ countries), flat organisation, being able to work independently, team spirit, and the opportunity to use (your own) ideas to grow personally and professionally. Yes, your CV is important, but so is your passion for all things IoT.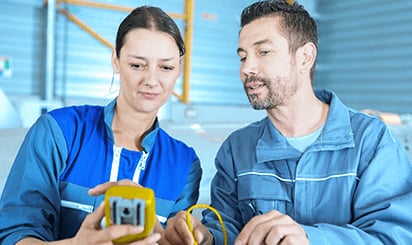 Facility Management – "Small Team, Plenty of Responsibility."
At Facility Management, our core responsibilities comprise budget planning, building services and fleet management, building security, running the mail office and cleaning the premises. We support the company workforce by providing appropriate office furniture and making sure the building is adequately cooled, heated and sanitised, to ensure productivity at the workplace. We also keep the roads and access ways on site free of hazards, and protect the premises against dangers from outside. We operate a first-rate in-house catering service, plan all on-site conversion and renovation work, structural or otherwise, and organise staff moving to and fro our Hirschau head office and Wernberg Logistics, respectively.
Blinds that work, comfy office chairs, appropriate room temperature. Facility Management at Conrad Electronic deals with day-to-day challenges swiftly, efficiently and in a hands-on way. The secret behind all this: a small and well-practised squad who are all about teamwork.